We are moving in just a few weeks and its time to upgrade our coffee table. We have a plain black one from IKEA that has been a good stand in while I've debated what I really want.
If I had my choice, I'd pick a brass and glass coffee table. But to be honest, we mostly use our coffee table to prop up our feet, which isn't exactly comfortable on a hard surface. We also have lots of friends with little kids (and will have our own at some point in the life of this table), so those sharp corners might be bad news.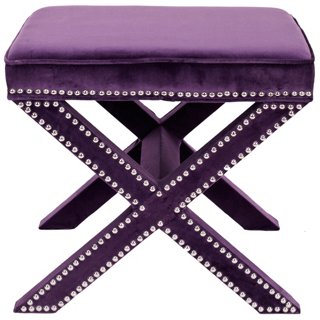 The logical choice is something upholstered. I adore
this ottoman
by Safavieh (I'd get two).
And
this ottoman
by Rachel Ashwell is divine. But my sofa is microsuede, and I can't get on board with having that much similar upholstery in one room. Oy.
I'm thinking about getting a brass and glass coffee table anyway.
This one
certainly solves the kids-and-corners problem (but not the kids and smudgy fingers one).
I'll let you know once I decide. But in the meantime... any wise words?