For most people, decorating involves finding the sweet spot between spending the money required to make it look good, but also not breaking the bank. When should you spend? When should you save?
Here are my suggestions on a couple of pieces worth spending on, and a few that are easy to save on without sacrificing style:
Feature Fabrics
If I'm doing a design on a budget, this is one place I will not skimp! Even a single beautiful pillow can make a room.
Designer decorating fabric is expensive. For reference, the retail price of Schumacher's super-popular Chiang Mai Dragon fabric is about $157 per yard, and that's not even close to the top of the range. But you can get a pillow cover or an upholstered seat out of a small portion of the yard, with great impact.
The fabric doesn't have to be expensive if the cloth is good quality and the workmanship is perfect. The bedding from
this project
I did is a great example. We used one beautiful fabric as the focal point. The fabric (Waverly's "Formosa") is very inexpensive, just $15 per yard. But it has vibrant, saturated colors and the pillow is sewn with a custom welt that makes it look totally chic and so much more expensive.
Classic furniture
Investing in extremely classic, well-designed, sturdy furniture is never a bad investment. I think sofas are the best example. The classics (chesterfield, roll-arm, etc.) are never out of style. The lines are so good on these pieces that they will always be en vogue. They will need to be reupholstered for sure, but that is a relatively small expense.
S A V E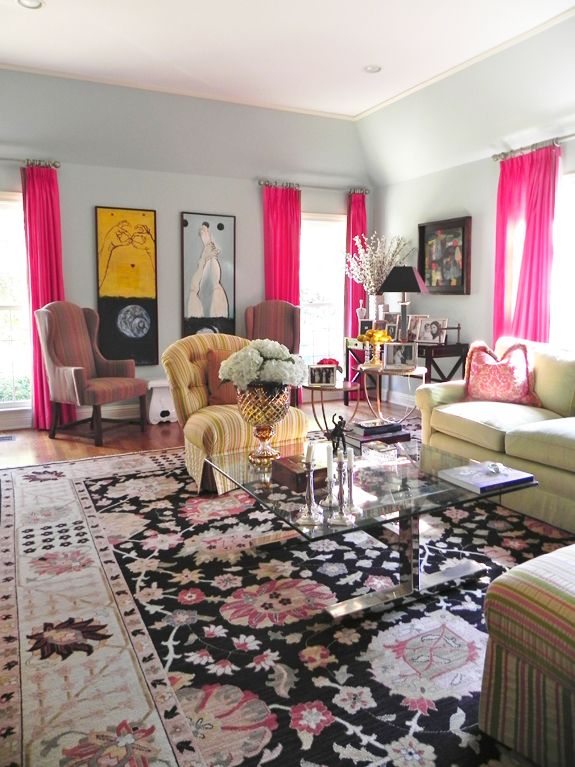 Little Green Notebook

Curtains & Hardware
You can get a designer pillow out of just a small corner of a yard, but curtains require yards and yards of fabric! People don't usually interact with curtains like they do with other home textiles-- people sit on chairs and ottomans and lay on sheets, blankets, and pillows. We generally just
look
at curtains from afar.
via Pink Wallpaper
On a budget, I like to use solid light- to mid-weight linen, sometimes in colors, but often in natural or white.
Curtain hardware is also an easy place to save. There are some show-stopping hardware options like brass and lucite, but if you're not trying to make a statement out of it, you can hang curtains beautifully and inexpensively. Cheap rod sets and ring clips are easy to find at home improvement and discount stores.
Caitlin Creer, Photo by Sara Bateman
Accessories
It is sometimes so hard to not spend your money on the little stuff! It's hard to pass up all the small, cool stuff you could buy and save up until you have enough for a nice sofa instead. Accessories are wonderful and necessary and good, but it's better to spend on the big stuff. Once you have the big stuff, great! Go crazy!
En mammas dag
I think there's something to be said for using a little creativity and personality rather than forking over the big bucks for every last little item in a room. You don't want to end up with a house that looks like a museum.
---
That's my two cents on where I spend and save when decorating on a budget!
What do you save and spend on?